The EVIC Twin Comes to Life
My EVIC Twin ran for the first time on April 15th. It didn't run very well but it was firing on both cylinders and showing promise. Yesterday was spent working out some of the bugs. This included adding two 10K resistors, one at each plug, to the ignition HV wiring to reduce spark EMI. By today it was running reasonably well with a top speed of over 6300 RPM. I ran it for a few minutes in a Hit & Miss mode between 2200 and 2300 RPM. It's interesting to hear a twin running Hit & Miss! Each cylinder fires once and then it coasts for about 2 seconds before the cylinders fire again.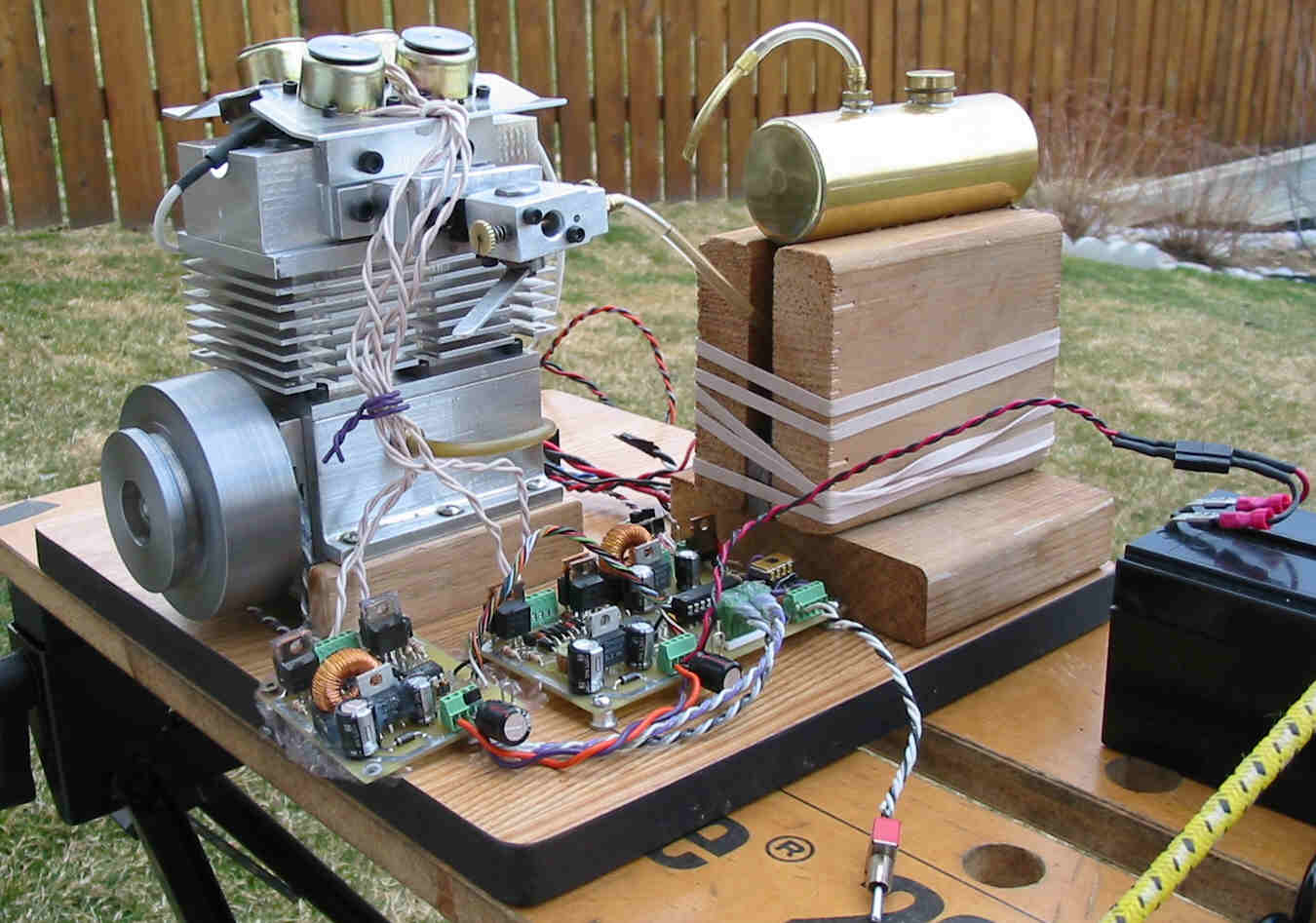 Testing and improvements continued in the days leading up to NAMES (April 26 & 27). The engine was on display there. One thing that must be fixed is a 6 to 8 thou crankshaft wobble. This is a result of an error that slipped in while I was making the pieces. The new crankshaft won't get done until after NAMES so don't expect to see the Twin turning 10,000 RPM.
There is an EVIC Twin book in the planning stages. It should be available in the fall.
Seminar at NAMES
I will be giving a seminar at NAMES. At this Sunday morning seminar I will be talking about the EVIC engines but one focus of the seminar will be to provide many tips for those building any small I.C. engine.
Over the past few months I have developed a new control board using the more powerful PIC16F628 micro plus a PIC12C508A micro. This Mk4 board plus a daughter board for the second cylinder runs the Twin. I am offering this new board to those who want to experiment. For a single cylinder demo engine the Mk2B board advertised on this web site
is a better more economical choice. Contact me by E-mail for price and availability of this board.
Over the winter I developed a flat faced second solenoid for the exhaust valve. This solenoid is mounted above the Bicron cone faced SP2515P0300 to give more exhaust valve lift. I improved the single cylinder software for the Mk4 control board to control this new solenoid plus the two Bicron solenoids. The result is improved acceleration and I believe more power although I haven't proven this. The top speed is down from the previous maximum of over 12,000 RPM, in the 11,000 RPM range, as a result of increasing the valve lifts to 0.050" (exhaust) and 0.052" (intake). I am in the process of making 2 of these new flat faced solenoids for the Twin.
A 4th EVIC Single Running
There is a 4th EVIC single running now. This one was built by Roy ? with assistance from his friend, and my contact, Robert Lehoux. This one uses unusual rotary solenoids to operate the valves.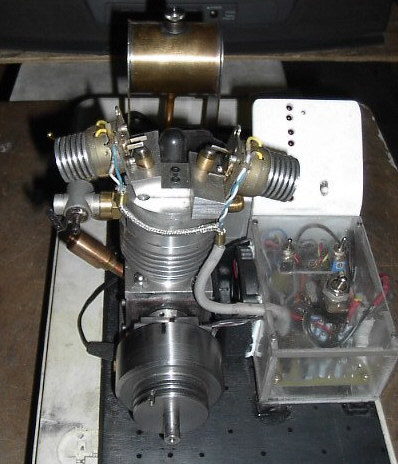 Digital Tachs

Please note that I have transferred the production of my Digital Tach to MjN Fabrications in Florida.

www.mjnfabrication.com This was done to give me more time to work on the EVIC engines.

An EVIC Group on Yahoo

Back in January Dirk Tollenaar started an EVIC group on Yahoo.

http://groups.yahoo.com/group/EVIC-111/

I have posted a few pictures on this site and will continue to do this. For Example I have posted a number of pictures of the 2" bore EVIC engine John Edwards is building. Recently (May 2003) David McQueen has posted a number of pictures of EVIC the engine he is building.

Dave Bowes